The Infinito CCR is the first closed circuit rebreather produced in Italy from a group of international investigators and technicians who collaborate with NASA and other agencies of technological research. The Infinito should be an extremely sophisticated machine, planned to be built as multiple versions unit, from the use as an recreational unit, or to specific needs for combat or military use or in the navy. The Infinito is the apparatus used by Claudia Serpieri and Vittorio Bianchini.
Does anyone knows more about this unit? It should have been introduced in 2002. Information is still rare..
The unit looks beautifull ..
UPDATE
IAMT 444 FC

Il sistema a circuito chiuso automiscelante elettronico ha due bombole, una di ossigeno e l'altra di gas diluente, posizionate sui due lati della struttura o, alternativamente, sotto la struttura stessa con una staffa di supporto.

Predisposto con un giubbotto ad assetto variabile con tasche dei pesi integrate, l'equipaggiamento si indossa con facilita.

Moduli di controllo

Il Sistema Ŕ fornito di 3 sensori per l'ossigeno, 1 trasduttore di profonditÓ variabile da 5 a 20 bar (a seconda dei requisiti operativi) ed un sensore per la temperatura del gas respirabile interno.

Le informazioni sulla profonditÓ, la pp02 media, la pp02 separata per ognuno dei 3 sensori, la temperatura del gas respirato ed il voltaggio delle batterie vengono tutte visualizzate sul System Monitor.

Caratteristiche Principali

Peso

da 15 a 22 Kg

Altezza

550 mm

Larghezza

330 mm

ProfonditÓ

195 mm

Capienza Canister

da 1.75 a 2.5 Kg

Volume sacca

da 6 a 8 litri

Giubbotto

Taglie S, M e L

Materiali disponibili

Alluminio, Acciaio e Titanio

Moduli di controllo

Led luminosi

Fonte di energia

Batterie alkaline o litio misura C

INFINITO Ŕ un marchio registrato di:

Powerbreathe Aerospace and Marine Technologies S.p.A.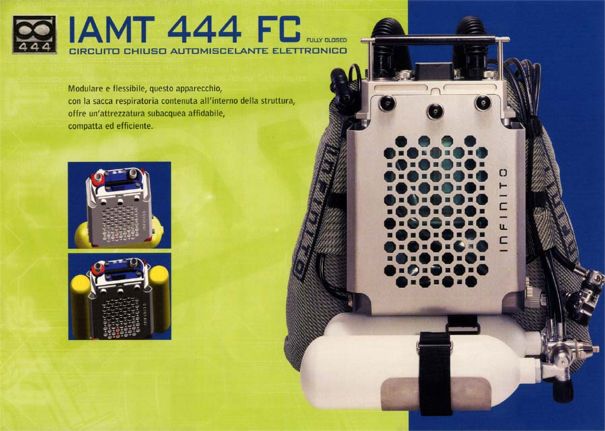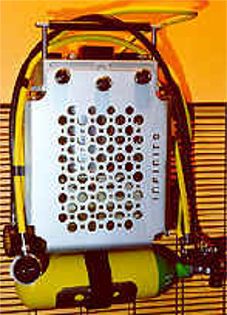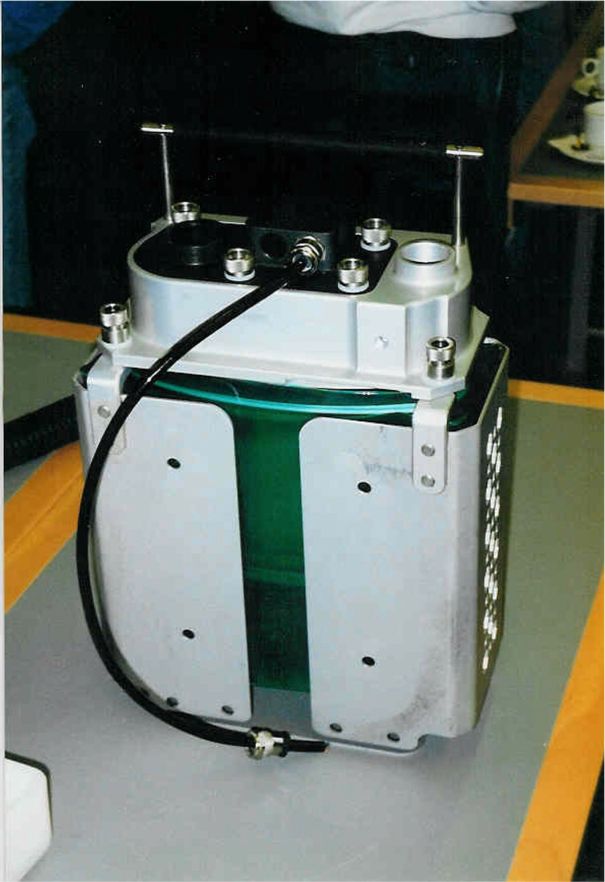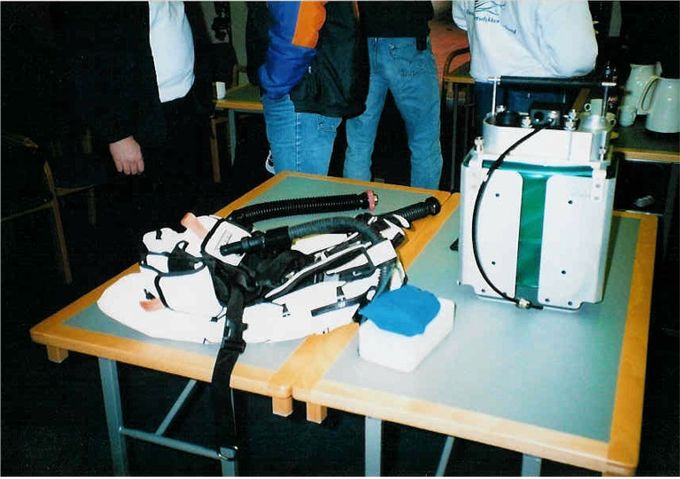 If you have more information on this rebreather, please contact me.
Photo's thanks to Alan Olsen. Thank you Alan!
UPDATE October 2005
Recently I received information the development of the Infinito by Powerbreathe S.P.A. has stopped. I managed to get some additional information on this unit and some pictures thanks to Gibbo.
There seem to be developed two units, the IAMT 888 a fully closed circuit rebreather and the IAMT 444 FC, that comes in a Fully closed circuit unit, a semiclosed unit and a pure oxygen model. Here you find additional information: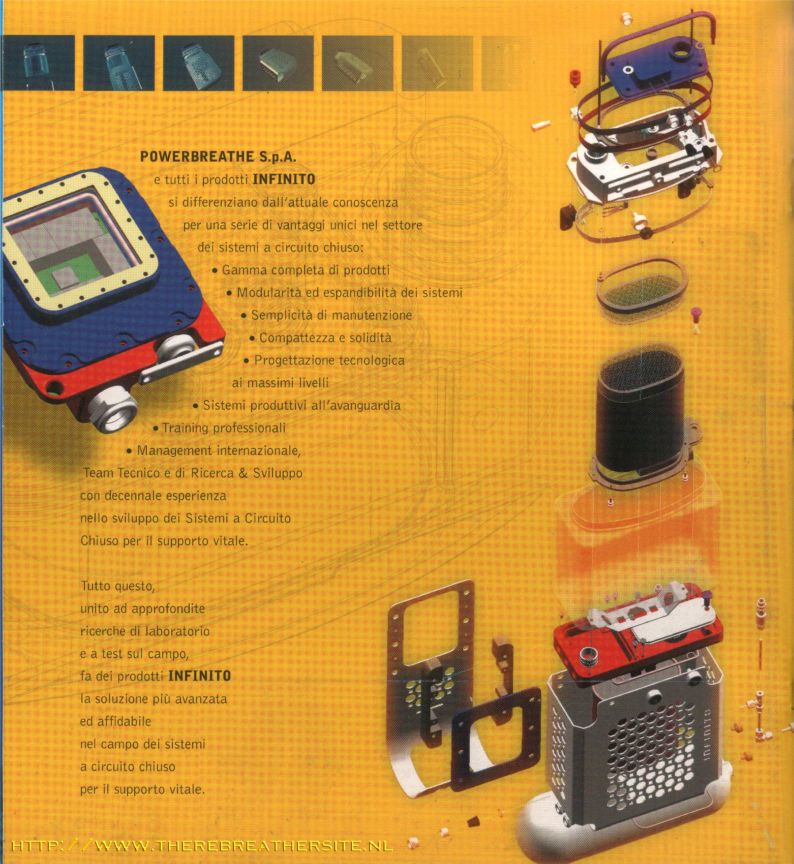 This is the leaflet about the CCR version of the 444
Technical data about the CCR IAMT 444 FC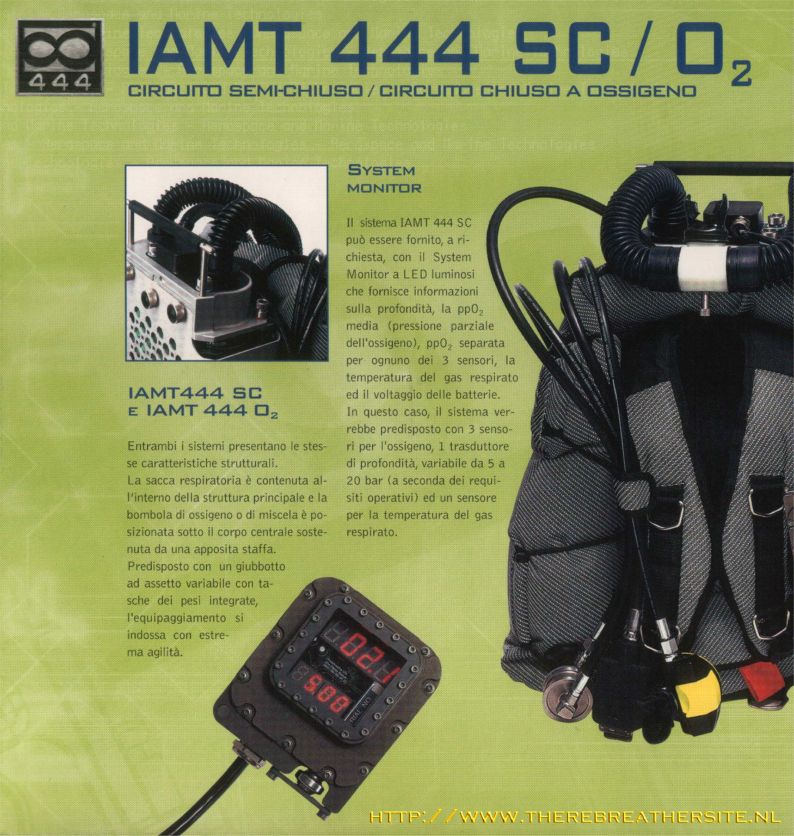 The same system can be modified to be a semi closed or oxygen rebreather.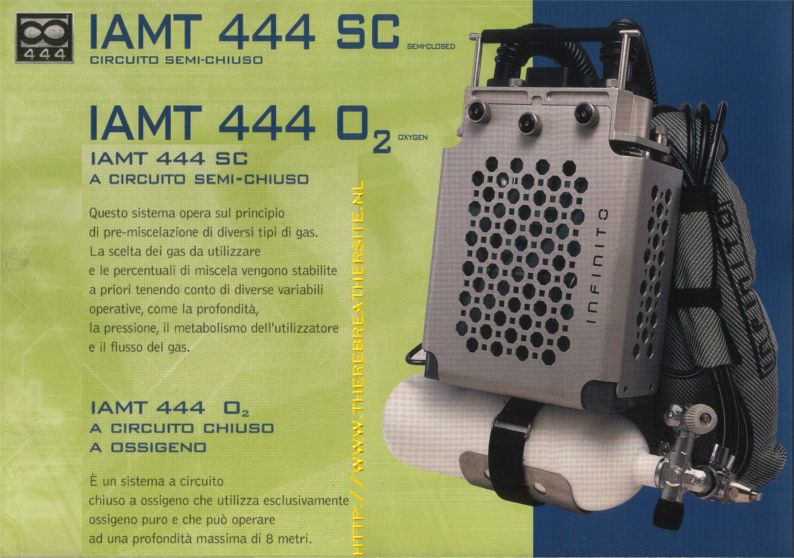 The back of the SC-O2 version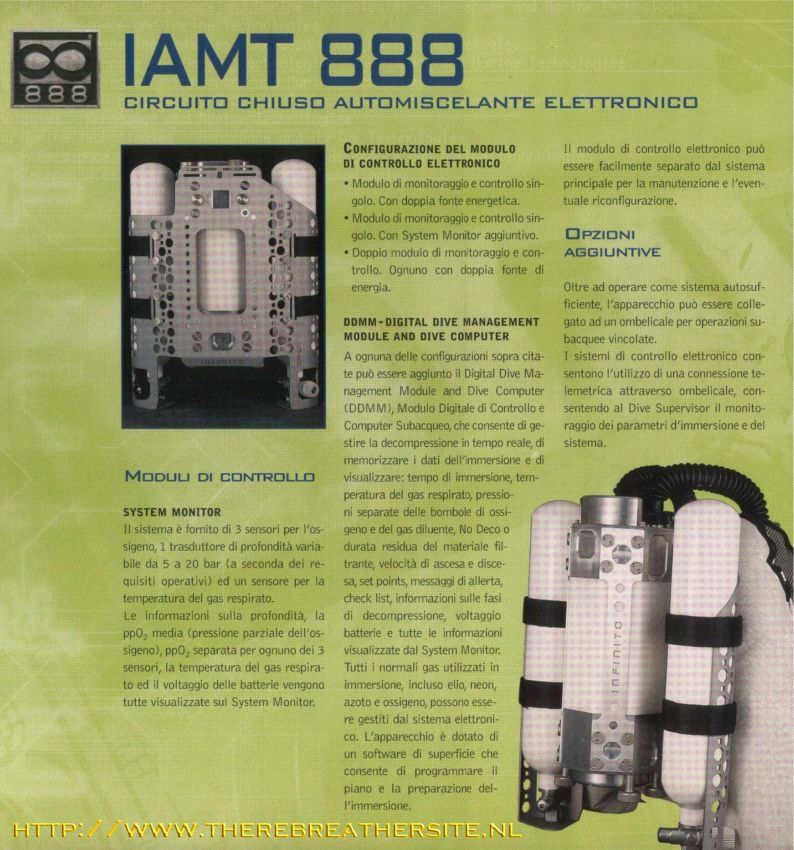 The 3 sensor fully closed circuit rebreather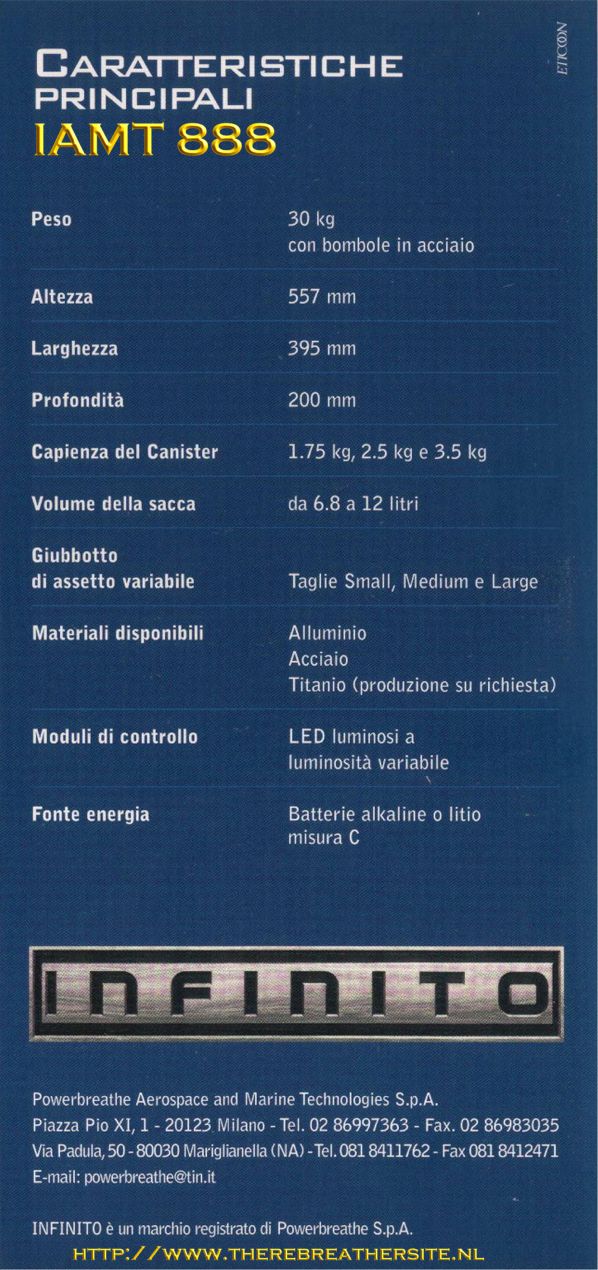 Choice of 1,75 - 2,5 - 3,5 scrubber! Interesting feature!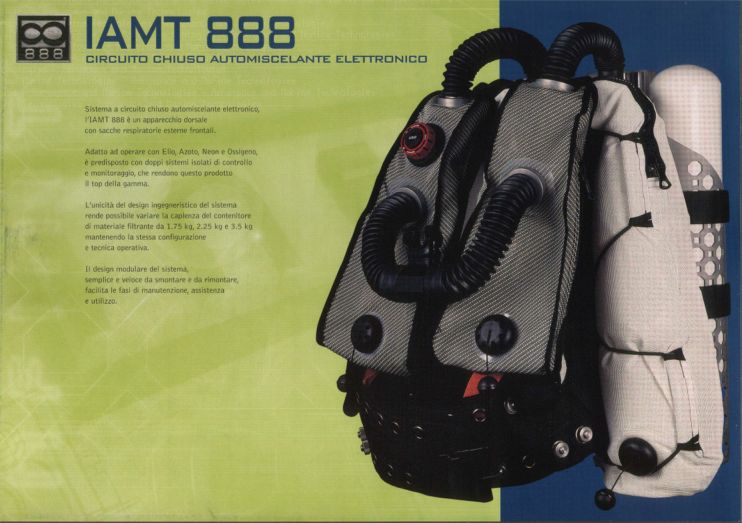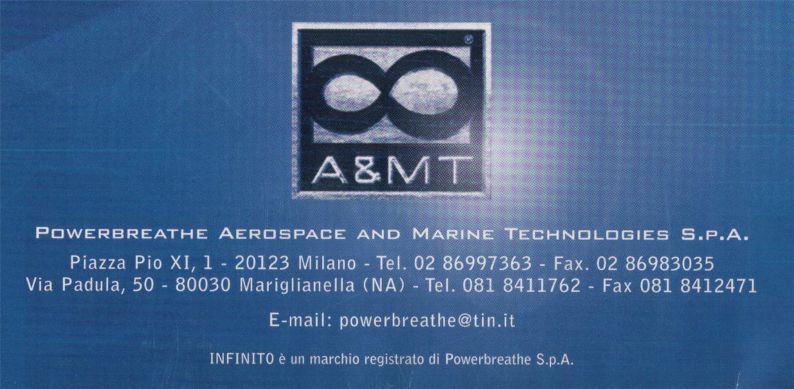 PLEASE UNDERSTAND THIS COMPANY IS CLOSED

For those who only eat Italian: (published with permission:)
Author
: Matthias Voss
Date: Fri Jul 14 13:34:02 2000
here is what I get out of it, I tried a somewhat literal translation
with minor respect to common rebreather speak :

IAMT 444 SC/ O2
semi closed / fully closed with oxygen
Both systems share the same fundamental structures.
The breathing bag is inside the center structure (" would call that box) and
the tank ( mix or oxygen) is held below the central piece by a
specially shaped construction (" I think this is like a dolphin)
The integrated weights jacket comes in different sizes and aids easy donning.

Monitor System
On request the system comes with a monitoring system :
Leds inform about :
depth
medium ppO2
separate ppO2 as shown by each of the three sensor cells
temperature within the breathing bag
battery status

In this case the unit comes assembled with the relevant sensors and
depth transducers, which range can be preset from 5 to 20 bars, according
to operating requirements.

Specifications:
weight : 15-18 kg, according to bottle
height : 550 mm
width : 330 mm
depth : 195 mm
scrubber : 1,75 to 2,5 kg
bag volume : 6 to 8 litres
jacket size : small, medium, large
materials : steel aluminium, titanium on special request
monitor system : LED ( matrix) variable luminescence
batteries : C-cells alkaline or Lithium


IAMT 444 FC ( fully closed)
The ECCR has one oxygen, one diluent bottle situated at the sides of the
structure, or alternatively below, lying flat ( "seems to me like
Mares) held by a specially bent metal construction.
"Same jacket as above.

Modes of operation :
Comes complete with monitoring system.
The unit comes assembled with the relevant sensors and depth
transducers, which range can be preset from 5 to bars, according to
operating requirements.
Leds inform about :
depth
medium ppO2
separate ppO2 as shown by each of the three sensor cells
temperature within the breathing bag
battery status

Digital dive management module ( DDMM)
the IAMT 444FC can be bought with a DDMM and integrated Dive Computer,
which will give
decompression info in real time,
keep record and shows data of the following dive parameters : dive time,
temperature of breathed gas,
both pressures of diluent and oxygen bottles,
NDC limits -OR- remaining scrubber exhaustion time,
speed of ascent and descent,
set points,
warning messages,
check list,
decompression information,
all of the information visualized by the monitor system
(my note : these seem to be 2 different systems, partially redundant(
temp, depth))

The control systems can handle most gasses used in normal diving,
including helium, neon, nitrogen, and oxygen.

It comes along with a software by which you can plan your rt table and
preparation of your dive.

Options:
The system can be equipped with an umbilical for surface supplied
diving, which allows tele metering of all diving parameters and system
status to the supervising attendants.

Specifics:
weight : 15-18 kg, according to bottle
height : 550 mm
width : 330 mm
depth : 195 mm
scrubber : 1,75 to 2,5 kg
bag volume : 6 to 8 litres
jacket size : small, medium, large
materials : steel aluminium, titanium on special request
monitor system : LED ( matrix) variable luminescence
batteries : C-cells alkaline or Lithium



IAMT 888 ECCR

The unit comes assembled with the relevant sensors and depth
transducers, which range can be preset from 5 to bars, according to
operating requirements.
The system comes complete with monitoring system
Led's inform about :
depth
average ppO2
separate ppO2 as shown by each of the three sensor cells
temperature within the breathing bag
battery status

Possible Configurations of electronic control modules
(" read redundancy)
single monitoring/ controlling system with double energy pack
single monitoring/ controlling system with second monitoring system
double monitoring/ controlling system with double energy pack each

DDMM
Each of the above configurations can be complemented by the digital dive
management module and control computer ,which will give
decompression info in real time,
keep record on show data of the following dive parameters : dive time,
temperature of breathed gas,
both pressures of diluent and oxygen bottles,
NDC limits -OR- remaining scrubber exhaustion time,
speed of ascent and descent,
set points,
warning messages,
check list,
decompression information,
all of the information visualized by the monitor system
(my note : these seem to be 2 different systems, partially redundant
(temp, depth))

The control systems can handle most gasses used in normal diving,
including helium, neon, nitrogen, and oxygen.

It comes along with software by which you can plan your runtime table and
preparation of your dive.

Options:
The system can be equipped with an umbilical for surface supplied
diving, which allows tele metering of all diving parameters and system
status to the supervising attendants.


Specifications:
weight : 30 kg with steel bottle
height : 557 mm
width : 395 mm
depth : 200 mm
scrubber : 1,75 ; 2,5 kg, and 3,5 kg
bag volume : 6,8 to 12 litres
jacket size : small, medium, large
materials : steel aluminium, titanium on special request
monitor system : LED ( matrix) variable luminescence
batteries : C-cells alkaline or Lithium

"The jacket is not mentioned in detail here.


Issued by
Powerbreathe Aerospace and Marine Technologies S.p.A.
Piazza Pio Xl, I- 20123 Milano
tel. 02 8699 7363
and
Via Padua ;
50- 80030 Mariglianella ( NA)
tel. 081 8411 762

Guys , that's all I got from the Info sheet they sent me, let me add that
there is shown a bailout system and a rather rectangular cut shaped
bent drilled drilled drilled metal backplate, protecting at the same
time the down pointing valves.
There is a nice handle which may derive its shape from a Milano
coffeebar ( or Harry's ;-))

I would still like to know more details, perhaps ... well just wait
best to all
Matthias